In August 2019, Hope Street launched a Millennial Advisory Group.  The volunteer group consists of young adults aged 18 to 35 years old who are committed to raising Hope Street's public profile, raising funds and in-kind support for the organisation, and bringing the Millennial voice to the fore of the response to youth homelessness. The Millennial Advisory Group members are ambassadors for Hope Street – helping to spread the word about youth homelessness in Melbourne and Hope Street's response to it.
If you're interested in joining the group, please contact Katie Hooper, Business Development and Partnerships Manager, at .
Our current members are: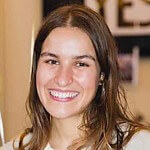 Riley is a legal and social policy professional who is passionate about improving outcomes for vulnerable cohorts through research and evidence-based policy design. In her current role as a Senior Adviser at the Centre for Innovative Justice, as well as her previous experience as a management consultant at a Big 4 firm, she has worked with government and not-for-profit clients across a range of sectors including criminal justice, child and family services, disability, mental health and family violence. Prior to commencing her policy career, Riley lived and worked in New York, where she managed the operations of a successful fashion and design retailer with a strong focus on ethical, sustainable design and production. In her spare time, Riley enjoys making the most of Melbourne's beautiful walking trails and cooking. She is also finally trying to live up to the promise she made to her yiayia by learning Greek.
There is strong evidence that without access to safe, stable housing, young people are less able to engage with education, employment, health services and therapeutic supports. Housing is crucial to enabling young people to get their lives on track and thrive. I'm excited to be on the Board of Directors, Chair of the Millennial Advisory Group and a member of the Business Development and Partnerships Committee, highlighting Hope Street's work supporting young people in times of crisis and working with them to achieve sustainable housing solutions.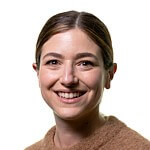 Kat George is a policy, stakeholder engagement and project management professional working across human rights, consumer rights, privacy and data ethics. She is an LL.M candidate at the University of Melbourne, with research focusing on economic and social well-being, and the impact of data and technology on the future of human rights. Kat is also an accomplished editor and writer, and her work has appeared in publications including The Guardian, Huck Magazine, Right Now, Dazed Digital, Noisey and Refinery29. She has a background in media and publishing, and has worked in London and New York as a freelance consultant. Kat has also worked in the humanitarian sector, coordinating psycho-social support for children living in refugee camps in Greece. In her spare time, Kat volunteers as a Board member of Hope Street Youth and Family Services, and chairs the Business Development and Partnerships Committee. She is an active member of the Australian Artificial Intelligence Collaborative Network. She also likes reading, tiny dogs, her husband, and unlimited re-watchings of past seasons of Ru Paul's Drag Race.
I am a passionate advocate for human rights. Hope Street's work with young people facing hardship is invaluable and inspiring. I am excited to support this work, and strive towards a future where everyone has equal opportunity, including a roof over their head. I want to help raise awareness about the important economic and social challenges facing young people, and energize people to join in and offer support to Hope Street's programs in any way they can.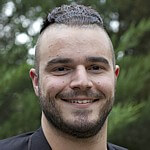 Nicholas Klenkowski
Youth Ambassador and previous Hope Street client
Nick is a young person with lived experience of homelessness, and a previous Hope Street client. He has joined the Millennial Advisory Group as a Youth Ambassador, to give voice to young people who are experiencing homelessness and to provide input based on his own experiences. He ran away from home aged 16 to escape from an abusive household. After a period of homelessness, he became an apprentice carpenter and his life started to stabilise. A major back injury rendered him unable to work for a period of time, which led to him losing his apprenticeship. Without the support of a family to fall back on, he became homeless for the second time as he was unable to pay the rent without his income. That's when he found Hope Street. Nick stayed in a Hope Street youth refuge and later moved into a Hope Street foyer-like supported transitional housing unit where he stayed for one year. He is currently staying in private rental accommodation, is working in the construction industry and has ambitions of becoming an entrepreneur.
My life has been quite a rollercoaster. With help from Hope Street, I was able to reclaim my life and succeed in many areas. I have a deep passion to help raise, inspire and lead young people out of the position I was once in. Being part of Hope Street allows me to return the kindness I received from the people who rescued me, and to now have a more direct influence and involvement in the organisation that I know, first hand, works effectively to move young people out of homelessness. Read more about Nick's story...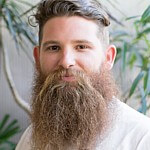 Giuseppe (Pino) Demaio
Giuseppe (Pino) is a designer and creative business leader who uses Human-Centered Design to add economic, social and environmental value to organisations. He is founder and director of strategic design agency Local Peoples, which designs for healthy, resilient and resourceful communities through brand, place and experience design. Local Peoples also publish Matters Journal, a weekly digital and biannual print publication, exploring social innovation across arts, design, environment, food, health and technology. He is a co-founder of public health focussed social enterprise NCDFREE, co-founder and former director of residential developer Assemble, and he sits on the advisory board of Pause Festival.
Access to safe and good quality housing is a basic human need and right. It underpins all other community and social wellbeing indicators. While Australian cities may be some of the most 'liveable cities' in the world for some people, this is not the case for everyone, especially 28K+ younger people on any given day. This is why Hope Street's role in helping young people get back to a good place is so crucial and I am passionate about helping to raise the profile of this challenge and using design to help provide long term solutions.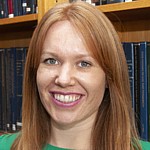 Prue Gildea
Prue is a strategic media and communications professional with 10 years' experience spanning corporate, consumer and not for profit sectors. Currently, she works in research communications for the University of Melbourne. Prue has a passion for people and enjoys collaborative, team-based environments where each person's skill-set contributes to the whole. Prue has previously worked advocating for causes including organ donation awareness, greyhound rescue and funding for athletes with an intellectual disability, just to name a few. When not communicating professionally, Prue enjoys weekends away, live music, running and the abundance of great coffee and food Melbourne has to offer.
I've always found the visibility of homelessness confronting and can't imagine how challenging it must be when you have nowhere to stay. Joining the Millennial Advisory Group gives me hope that together we can make a tangible difference to the lives of young people experiencing disadvantage and homelessness through advocacy, fundraising and practical support.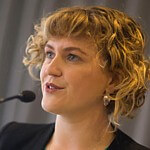 Jess Gregory
Jess is a policy, research and engagement professional with an interest in working towards social and economic participation. She has worked on responding to family violence and gendered violence, both as a policy advisor at Domestic Violence Victoria and in communications at Australia's National Research Organisation for Women's Safety. In her current role Jess looks at how energy and water businesses can respond to family violence and financial abuse. She studied media, communications and languages and her first job was looking after the green room for ABC program Insiders. She also enjoys cooking, choc-tops at the movies and hiking.
Family violence is a leading cause of homelessness, particularly for women and young people. Hope Street does fantastic work in supporting young people to build the lives they want to lead. I'm passionate about community-led organisations and I look forward to supporting Hope Street and the young people they work with.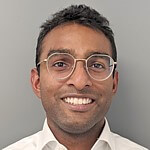 Dinesh Kumar
Dinesh is a financial services professional with over 9 years' experience in the wealth management industry. In his current role he advises private investors, business owners, family trusts and other private investment entities on investment and wealth strategies. Dinesh works with clients with a focus on providing long term asset allocation, investment research and tailored investment opportunities. Dinesh is also part of the leadership team focused on managing and mentoring a team of service professionals to deliver on advice and customer experience. In his spare time, he learns and plays the African drums and enjoys getting outdoors as much as he can.
Unfortunately, youth homelessness is often an 'invisible issue.' When thinking of homelessness, commonly an image of an adult pops into mind and not a picture of a young person. The work of Hope Street is so important in providing support to young people who are slipping through the cracks and are grappling with the complex circumstances of homelessness. I am proud to be part of the group at Hope Street helping to achieve this and also to build more awareness around the challenges young people face to be safe and secure.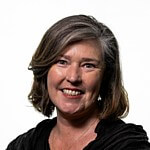 Katie Hooper
Business Development and Partnerships Manager, Hope Street
Katie Hooper has worked in child and family services for over 25 years. She has worked with Government and Not for Profit organisations, in direct practice roles and executive leadership roles. Katie has worked with children, young people and families through Child Protection, Youth Justice, Education and support services. Katie joined the Hope Street team in June 2022 as the Business Development and Partnerships Manager and is excited to engage with the community to support the strategic priorities of Hope Street Youth and Family Services.
Download