Young people at Hope Street participate in a range of free workshops and activities that help them to connect with their community, gain confidence and learn living skills.
2017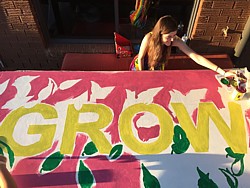 Album
As part of Hope Street's contributions to the April 2017 edition of Parity, "Giving Voice: Young People Experiencing and Responding to Homelessness", the Melton Craft Mural was created during a number of activities in Melton and other Hope Street sites on 18 March 2017.
Young people were invited to come and share their thoughts and feelings on the meaning of HOPE through art. Hope Street in Melton supports young people to move towards living independently and therefore move out of the homelessness sector. To assist with the development of interdependence with young people and provide a positive journey, Hope Street provides a safe place for them to show their emotions. It is hard at times for young people to express themselves through words therefore it is important to provide young people with innovative ways to tell others what they think and how they feel. The young people found it very rewarding working as a team and they had a lot of fun using colour while painting the large mural. The young people then had the opportunity to share their reflections on what HOPE means to them.