On 24 August 2016, the Honourable Martin Foley, Minister for Housing, Disability and Ageing, Minister for Mental Health, Minister for Equality and Minister for Creative Industries launched the Council to Homeless Persons' edition of Parity magazine titled The Role of Community Development in Responding to Homelessness.
Hope Street CEO, Donna Bennett, and Service Development Manager, Bruce Tucker, have contributed two articles on community development and homelessness in this edition.
Cr Kathy Majdlik, Mayor of City of Melton, welcomed attendees to the launch in the City of Melton Community Hall where they heard and engaged with a discussion panel on how community development plays a part in assisting those who are (at risk of being) homeless, especially within their local community.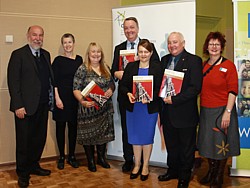 Photo Album
The discussion panel included:
Mr Don Nardella, MP, Member for Melton
Ms Donna Bennett, CEO, Hope Street Youth and Family Service
Mr Shane Gloury, CEO, TabCorp Park Melton
Associate Professor David MacKenzie, Swinburne University of Technology
A representative from the City of Melton
Ms Kate Incerti, Team Leader Housing and Homelessness Services, City of Port Phillip
See our album for a selection of photos taken at the launch.