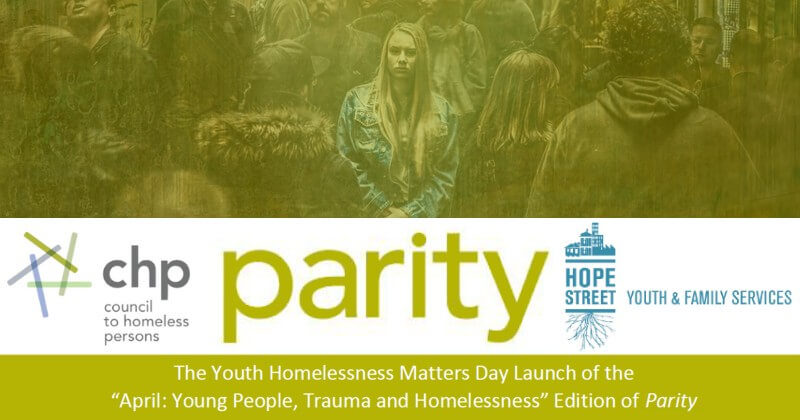 On Youth Homelessness Matters Day, Hope Street joined the Council to Homeless Persons and Melbourne City Mission to launch the April 2018 Young People, Trauma and Homelessness edition of Parity.
Hope Street, one of the edition sponsors, has contributed a number of articles to this edition which examines trauma as a cause of youth homelessness, its impact on young people experiencing homelessness and how understanding trauma can assist those helping young people out of homelessness.
Download
Leonie Scott, Acting Assistant Director of Programs and Performance Mental Health, Health and Wellbeing Division, Victorian Department of Health and Human Services formally launched the Parity edition, and Hope Street CEO, Donna Bennett, spoke at the event.
The launch also featured a panel of young people, moderated by Silvana Izzo from Melbourne City Mission, who talked about their experiences of the service system, and shared their insights into what they believe is needed to improve the responses for young people who have experienced trauma and homelessness, such as:
more client-centred support
establishing rapport with young people prior to discussing their traumatic experiences
ensuring that schools and community groups are provided with better information on what homelessness supports are available
Other speakers included:
Michelle Noon from the Blue Knot Foundation on the role and value of trauma informed care
Dr Mark Furlong, thinker in residence at the Bouverie Street Centre with a presentation on the different meanings and uses of the concept of trauma
Melbourne City Mission CEO, Vicki Sutton
Council to Homeless Persons CEO, Jenny Smith