For Hope Street, 2018-2019 was a year for building hope, both literally and metaphorically. On Wednesday 20 November, we celebrated the achievements of Hope Street's teams, young people and the partners and supporters behind our impact.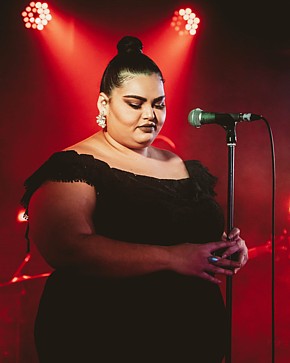 Thank you to the community members, partners and supporters of Hope Street, guests, Hope Street team members, the Board and young people who came together to make this such an amazing event and provided such positive comments.
Highlights of the AGM were:
The young people, who shared their lived experience of homelessness and how Hope Street made a difference in their lives, in the panel discussion warmly facilitated by Jennifer Hansen (Hope Street Ambassador and Smooth FM radio announcer).
An incredibly powerful performance by Yirgjhilya who is a 23-year-old Yergala Mirning and Wuthathi soul singer, and the 2019 Victorian Miss NAIDOC.    Yirgjhilya performed two songs she had written, including one in her Aboriginal community language.
Display of young people's framed mandalas and the Women Against Violence T-shirts, showcasing their many strengths and abilities.
The Live Life with Hope song and video.
Presentation of the Annual Report.
Download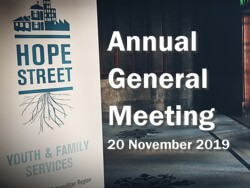 Photo Album
Thank you again to everyone who joined us in celebrating, above all, each young person and their children who came through Hope Street's doors with hope. Hope that their experience of homelessness can be short-lived and will not define who they are or what their future looks like. Hope that, one day, Melbourne will be a city, and Australia a country, in which no young person has to experience homelessness. Hope for a better future.