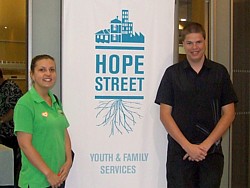 Photo Album
2012/2013 has been a tremendously successful year with many achievements and wonderful success stories with young people and young families across all of our programs. Youth Homelessness remains a major social problem requiring individual, community and government action.
Hope Street is proud to be a leading youth homelessness specialist organisation. Our expertise is in supported crisis accommodation; individualised case managed services; provision of therapeutic one to one counselling, family meetings and support; after hours immediate response services; Youth Foyer model programs utilising experiential learning modalities reinforced with living skills and social development activities.
We have worked hard this year to establish a new strategic plan to guide us through the next three years. The results were launched at our Annual General Meeting.
We completed important initiatives arising from our 2011 - 2013 strategic plan goals:
Effective governance and management
Effective delivery of programs
Organisational sustainability
Progressive agents of social change
Download