The end of July brought the beginnings of new business contacts, knowledge about Hope Street — and early Christmas tidings!

On Thursday 30 July, a number of guests celebrated the festive season at a fabulous networking and fundraising morning presented by Q Networking Group in Kew. 
The Q Networking Group Christmas in July was a great success. A past Hope Street client, Connor, was the star of the show. Connor spoke to the Q Networking Group guests about his experience of Hope Street and how he was enabled to remain at school (he is currently completing Year 12) and finally find stable accommodation.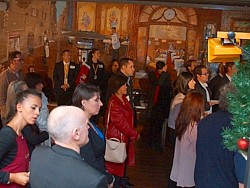 Photo Album
The event raised over $2000 to go towards Hope to Home in Melton which supports young people in securing private rental accommodation in the City of Melton. This unique project is in partnership with Raine and Horne Melton and other business and community services in Melton.
Thanks to Q Networking Group Member, Malcolm Mitchell, for the photos.  Please click on our Photo Album at right to view a selection of images.