Hope Street is proud to be a part of the North and West Local Area Services Networks' More houses for people, a year-long campaign kicking off during Homelessness Prevention Week.

Hope Street's CEO, Donna Bennett, is the chair of the Northern Local Area Services Network and she MC'd the campaign launch on Thursday 06 August 2015 at the Global Learning Centre in Broadmeadows.  The event included guest speakers, music, distribution of campaign postcards, selling of campaign t-shirts and a strong message that there are a number of doable strategies to solve homelessness experienced by over 22,000 Victorians each day - in particular, governments investing in affordable housing.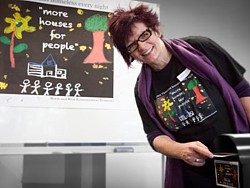 Photo Album
Photos of the campaign launch can be viewed in our Photo Album at right.
 
 The More houses for people campaign is calling for:
Growth in public housing
Taxation changes for low income earners
Reform in planning regulations
An increase in the Commonwealth Rental Assistance Program
Greater innovation in design and constructions to make housing affordable
How can you step up to end homelessness in Australia?
The North and West Local Area Services Networks are asking people to complete the postcards and to send them in to the Postcard Campaign.   Postcards are reply paid and the Network will then present the signed postcards to the Prime Minister and Victorian Premier.