Hope Street is the winner of the 2016 City of Melton Business Excellence Award - Matchworks Best Community Involvement Organisation.

MatchWorks Employer Solutions Consultant, David Fuller, presented the award to Hope Street representatives Andrew Nette (Chair of Board), Donna Bennett (CEO) and Jeremie Mbog Nyetam (Melton Program Coordinator) at the Venture Melton-hosted awards ceremony held on Friday 17 June 2016 at Tabcorp Park.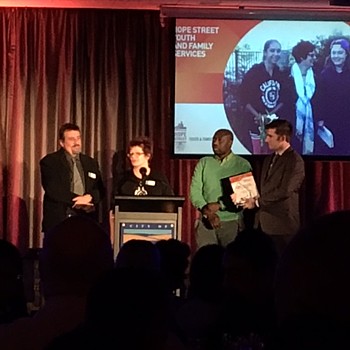 Sponsored by Matchworks Melton, the award recognises and rewards the excellence of Hope Street's Melton programs, staff and management.  We are proud to have the City of Melton's acknowledgement of the truly meaningful and professional services our teams provide to young people and young families in the City of Melton.  Thank you to everyone who voted for Hope Street – your support is greatly appreciated.
 
We especially thank one of the guests at our table at the awards gala night – also from another wonderful community organisation, The Orange Pigeon – for sharing the photos seen in this story.

Further images can be seen in Venture Melton's 2016 City of Melton Business Excellence Awards Facebook Photo Album.