Hope Street is delighted to have received several bicycles built by Ecodynamics for our young people and young families in Brunswick and Melton.
On 21 February 2018, our Corporate Partner Ecodynamics held their annual Group Strategy Day at the Abbotsford Convent. As part of Ecodynamic's Strategic Plan, the group is implementing an extensive Grassroots Program and has partnered with Hope Street to assist wherever possible in helping disadvantaged youth and young families.
Consisting of almost 100 employees across four different sites, the Group Strategy Day plays an important role in bringing Ecodynamic's staff together. During the day, employees undertook a team building exercise designed to foster team spirit, and what better way to do so than by doing something special for Hope Street.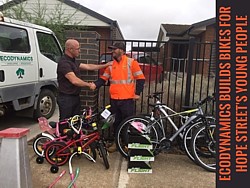 Photo Album
The employees were split into groups and were given a challenge to build 16 bicycles, varying from adults to kids sizes. These bikes were then donated to Hope Street's Brunswick and Melton branches for use by our residents.
Ecodynamics have also kindly agreed to assist us with the landscaping requirements for our Hope Street First Response Youth Service in Melton by offering their services and materials for the build. We are grateful to Ecodynamics for their support and look forward to working with them for many years to come.