In support of the Melton City Council, Hope Street was delighted to attend the annual Mayoral Ball 2015 hosted by the Mayor Sophie Ramsey. 

Our organisation has been a part of the City of Melton community since 2009, with the establishment of our Hope Street in Melton program providing supported medium term accommodation to vulnerable local young people who are homeless or at risk of homelessness.   The Councillors and Officers of Melton City Council have been integral to the establishment of Hope Street In Melton, ensuring valuable community services are brought into the area and remain as a part of the Melton community.
The Mayoral Ball was held on 17 September 2015 at the Tabcorp Park in Melton and Hope Street hosted a table with special guests:
Don Nardella (MP)
Paul Baulch (Hope Street Corporate Committee)
Jack Moshakis (Hope Street Corporate Committee)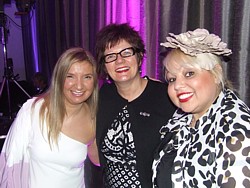 Photo Album
Jo Connellan, Director of Hope Street representing the Board, shared in the City of Melton celebration, as did our CEO, Donna Bennett; Executive Administration Officer, Fiona Rigney; Operations Manager, Dale Hardy and Service Development Manager, Mandy Baxter.
See our Photo Album at left for a selection of photos taken on this enchanted evening in Melton.