BOOST is an Enhanced Youth Refuge Response initiative that offers vulnerable young people and young families an integrated approach and immediate response to their situations and needs, with the aim of diverting them from the homelessness service system or preventing them from entering the system in the first place. BOOST is an integrated program which is located at Hope Street's youth refuge in Brunswick West and is designed for young people with multiple needs who are disconnected from their community, allied support and mainstream services.
BOOST Specialist Practitioners provide a weekly outpost for young people at the Access Point in Preston run by Haven; Home, Safe. Young people can be referred by the Access Point staff and seen by our BOOST Specialist Practitioners for information and support or referral into the BOOST program for ongoing support.
What does the program offer?
BOOST uses a multidisciplinary team approach to deliver services to young people experiencing homelessness including: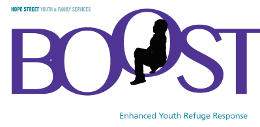 intensive case management for up to three months
short-term accommodation for up to seven nights in the 'short stay bed'
short-term crisis support for up to six weeks
housing support
linkages to the community
role modelling and mentoring
referral pathways
living skills
budgeting assistance
advice and information
How can young people enter this program?
Young people must be:
16 - 25 years of age
(at risk of) experiencing homelessness and in crisis
linked to the North and North-West Metropolitan region of Melbourne
Please contact your nearest access point(s) listed on this page to find out more about entering this program.
OUTCOMES SUMMARY
During 2019-2020:
the program assisted 110 unique individual young people, including 11 accompanying children aged 0-11;
132 clients were newly assisted throughout the year, with 21 carried over from 2018/2019;
126 clients exited the program during the year;
the most common age brackets were 20-24 (54%), 18-19 (21%) and 17 years (9%);
the most common countries of birth were: Australia (69%), Somalia (8%) and Ethiopia (6%);
8% of clients identified as being either Aboriginal or Torres Strait Islander;
31% identified as being of CALD background; and
4% of clients had a disability.
The most common sources of income were:
73% government pension or benefits;
53% Newstart or Youth Allowance;
10% Parenting payment;
10% Disability Support Pension;
7% employee salary; and
20% nil income.
The most common reasons for seeking assistance were:
housing affordability stress (68%);
housing crisis (12%);
relationship/family breakdown (6%); and
domestic and family violence (5%).
Learn more about the young people supported, and our impact, from the report below.
Download