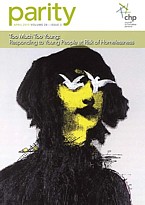 Parity magazine is Council to Homeless Persons' (CHP) national publication, examining homelessness from personal, local, social, national and global perspectives.
Published ten times a year—usually between February and November—each edition of Parity is devoted to the examination and discussion of a specific theme or set of issues connected to homelessness.
Hope Street co-sponsored and contributed a number of articles and images to CHP's national magazine, Parity, in its April 2015 Too Much Too Young: Responding to Young People at Risk of Homelessness issue.
Magazine artwork by Hope Street's young persons can be viewed in our Too Much Too Young news story.