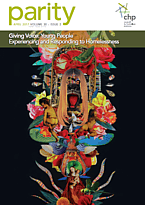 Parity magazine is Council to Homeless Persons' (CHP) national publication, examining homelessness from personal, local, social, national and global perspectives.
Published ten times a year—usually between February and November—each edition of Parity is devoted to the examination and discussion of a specific theme or set of issues connected to homelessness.
Hope Street, one of the sponsors of this April 2017 Giving Voice: Young People Experiencing and Responding to Homelessness edition, asked a number of young people to share their personal stories.  Through their voices we are given a different perspective from which to listen, to think, to feel and to respond.  We must act together with these young men and women who are living or have lived the truth of what it is to be homeless and who can speak of what is needed to address youth homelessness.