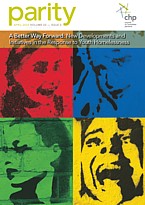 Parity magazine is Council to Homeless Persons' (CHP) national publication, examining homelessness from personal, local, social, national and global perspectives.
Each edition of Parity is devoted to the examination and discussion of a specific theme or set of issues connected to homelessness.
Hope Street, a co-sponsor of the April 2020 A Better Way Forward: New Developments and Initiatives in the Response to Youth Homelessness edition, has contributed a number of articles in this issue which aims to highlight and foreground the changes in both the understanding of the dynamics of youth homelessness and the range of different policy and service responses and settings that have been developed and implemented to provide a better way forward in responding to youth homelessness.
pp17-18 - Co-production in Youth Homelessness Research
File Size:
203.48 kB
Date:
Tuesday 12 May 2020, 11:30am
Downloads:
1026 x
pp26-27 - Observations of a Youth Reconciliation Practitioner on the impact of Covid‑19 on Young People who are Residing in Refuges
File Size:
162.93 kB
Date:
Tuesday 12 May 2020, 11:30am
Downloads:
968 x
pp49-50 - The Need for More Purpose‑designed Specialist Youth Refuges in Growth Corridors
File Size:
213.89 kB
Date:
Tuesday 12 May 2020, 11:30am
Downloads:
857 x
pp53-54 - Long‑term Counselling in a Post‑refuge Environment
File Size:
174.27 kB
Date:
Tuesday 12 May 2020, 11:30am
Downloads:
896 x
pp58-59 - The Need for Youth‑specific Private Rental Assistance Programs
File Size:
227.10 kB
Date:
Tuesday 12 May 2020, 11:30am
Downloads:
1198 x
pp96-97 - Opinion: Donna Bennett
File Size:
347.59 kB
Date:
Tuesday 12 May 2020, 11:30am
Downloads:
886 x
Go to top