On Tuesday 29 November, Hope Street launched the architectural plans of its new supported crisis accommodation centre in Melton. There was also a fantastic Talk and Performance by Hope Street's talented young people, and much more as a part of the 2016 Annual General Meeting.
The event, held at our Hope Street Community Hall in Melton included a number of distinguished guests:
Mayor Cr Sophie Ramsey was pleased to launch the plans for the new youth refuge which has been developed in partnership with Melton City Council. The City of Melton's immense commitment to this vital service includes the lease of land to Hope Street for the new facility that will help to address the needs of at risk young people in their local community.

Also from the Melton City Council were Cr Ken Hardy, Cr Bob Turner, Cr Melissa DeSantis, General Manager Community Services, Maurie Heaney and Youth Services Coordinator, Mark Goodie.

The Honourable Don Nardella MP, Member for the Electorate of Melton, has been a great supporter of Hope Street and our Melton First Response campaign. Mr Nardella spoke about the importance of collaborating with organisations like Hope Street to highlight the needs of vulnerable young people locally. His support has provided Hope Street with networking and partnership opportunities between government, business and community organisations. This has resulted in a rapid response to the issues faced by homeless young people and young families in Melton.
Nik and Mary, young people from the Hope Street in Melton program, were an inspiration as they shared their life experiences and talents.

Nik talked about his journey as a young homeless person which began when he was 15 years old and found him sleeping rough and in his car three years later. With Hope Street's assistance, Nik obtained crisis accommodation, and medical and financial support in Brunswick. He later transitioned into our Melton program where he re-established his confidence, life skills and knowledge and was successfully interviewed for a job in Melton after completing a construction certificate. Based on his personal experience, Nik especially highlighted the necessity for a local facility:

Melton is a self-sustainable city and a great place to live however there are not enough services. This was shown by my having to go to Brunswick to get a crisis response. Melton definitely needs a crisis accommodation service.

Mary entertained the guests at the event with two beautiful songs accompanied by her exemplary guitar playing. She received huge applause that acknowledged her great talent as a performer.

Both of these young people have overcome many obstacles in their lives with triumph and courage.
Laurence Robinson, Director of Brand Architects, presented the plans for the new Melton facility, including a site fly-through which demonstrated the open feel of the design that would provide an accessible and nurturing environment for young people.
Hope Street CEO, Donna Bennett, presented a poignant video by Youthworx, titled "The Future of Hope", depicting four young people's stories.*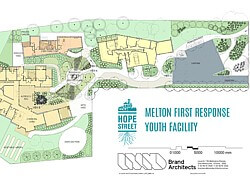 Photo Album
The video was followed by our Annual General Meeting where we reported on Hope Street's activities and accomplishments for the 2015-16 period. Nominations of the following people to the Board of Directors were accepted:
Judith Cooke
Andrew Nette
Vivienne Archdall
Wayne Street
Helen Riseborough
Jo Connellan
Thank you to everyone who joined us at the launch and to celebrate the achievements of young people, our teams and the community's inspirational contributions in assisting Hope Street to provide meaningful responses to young people and young families who experience homelessness.
Download
*The video is not being released for general public viewing however you are invited to see a number of short films on youth homelessness in our Multimedia section.