On the first day of a beautiful Melbourne Autumn morning, heartfelt messages of hope were left for homeless young people in Melton.
Since 2015 Woodgrove Shopping Centre has partnered with Hope Street to fight youth homelessness in the West. With the success of the Tree of Hope has come the Letters of Hope which was unveiled on 01 March. The installation, located at the Grove outside the Bank of Melbourne entry, is comprised of four letters: H-O-P-E. Colourful keytags obtained from Woodgrove or participating retailers for a gold coin donation, have a personal message written upon them and are then attached to one of the letters.
This visual representation of hope enables individuals and families to express their thoughts and feelings on youth homelessness and, most especially, for those young people and young families at risk of or experiencing homelessness in their local community. As each letter of HOPE is filled, so is hope filled within those who face having no home and no future.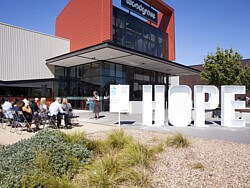 Photo Album
Funds raised from Letters of Hope will go to the Hope Street First Response Youth Service in Melton, a purpose-built crisis accommodation facility that will provide emergency help to more than 100 at risk young people in Melton each year. As well as providing shelter and meals, support services will include counselling, health and wellbeing initiatives, education and training, and personal and social development so that young people and young families can build meaningful lives separate to the homelessness service system. See our Campaign Resources to learn more about this vital initiative.
Hope Street thanks Woodgrove for their ongoing support and tremendous assistance with the promotion of our work with homeless young people and families and, in particular, with our Melton First Response campaign.
How you can help
Your contribution and message left on the Letters of Hope at Woodgrove will help Hope Street to create a place of real hope and action that will meet the needs of Melton's young people and young families in crisis.  You can also make a donation today.