Hope Street, in partnership with Kirrip House, recently ran a competition to find a piece of artwork that will welcome young people into the Hope Street Community Hall in Melton.
The competition was an opportunity for young artists of Aboriginal or Torres Strait Islander heritage who were 13 to 25 years old and living in the Melton local government area, to showcase their incredible artwork during NAIDOC Week (08 - 15 July).
Thank you to everyone who entered the competition - the decision was difficult as the standard of artwork was very high.
And the winners are...
The following three artists were awarded prizes at the Melton NAIDOC Flag Raising held at the Melton Community Hall on 11 July, in partnership with City of Melton officials and Hope Street (for a closer look at the winners' art pieces, see our Photo Album):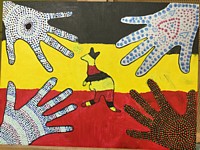 Love, Care, Support
1st Prize: Tara Quarman
$250 Woodgrove Shopping Centre gift voucher
My art piece represents moving into a loving, caring and supportive family. The hands are of the strong women in my life and of the new beginnings that brings.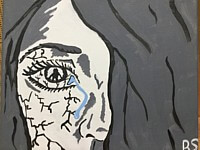 Breaking Under the
Eyes of Depression
2nd Prize: Rhuma Smedley
$150 Woodgrove Shopping Centre gift voucher
I thought this piece related to today's youth. This painting related well to me when I was 16 and homeless.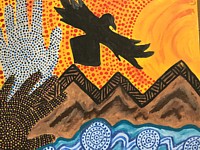 There is always a
protector on our journey
3rd Prize: Marayne Muller
$100 Woodgrove Shopping Centre gift voucher
My art piece depicts the journey of a young person:

The water signifies a place of cleansing, but also that we can be like the water as it continues to flow and that we, as young people, should never stop or give up. The circles are campsite waterholes, which for me are places of fun, places to reenergise and places to just be you.
The mountains signify that life is full of ups and downs and that it can be a hard climb to achieve our dreams, but one day, when we get to the peak of our mountain, there will be an amazing view at the top.
The sun represents warmth, growth, and that no matter how hard and dark the day gets, the sun will rise again and bring with it new changes and opportunities.
The hands represent the people around us and that we will never stand alone, but we choose in which way to stand together. It also symbolises that there are people that walk beside us on our journey that can carry the hope until we carry it for ourselves.
The dots within the hands represent the journey which life gives us and that the little steps we take will create big footprints. It also depicts that each step we take will create our story.
Bunjil, the eagle shows that he will always be watching over and protecting us on our journey, even when we feel alone.
NAIDOC Melton 2018, congratulations to all the winners in the art competition, all 3 were young ladies from Kirrip.

Posted by Kirrip Aboriginal Corporation on Tuesday, 10 July 2018
Hope Street acknowledges the Lord Mayor's Charitable Foundation (Youth Grants) contribution to this project.
National Reconciliation Week (27 May - 03 June)
Having just commemorated the 20th anniversary of National Sorry Day on 26 May, National Reconciliation Week is an opportunity for us to reflect, respect and heal the Stolen Generations and their families, and to learn more about Aboriginal and Torres Strait Islander culture.
Young people identifying as having Aboriginal or Torres Strait Islander heritage continue to be over represented within the homelessness sector. Hope Street works closely with our young people who are of Aboriginal and Torres Strait Islander heritage and our Hope Street in Melton program has forged strong community links with local partners such as the Kirrip Aboriginal Corporation.
Aboriginal and Torres Strait Islanders make up 20% of the homeless population nationally but only 3% of the overall population – making them 10 times more likely to experience homelessness than non-Indigenous Australians.

To mark National Reconciliation Week 2018, current and former AFL stars, Jarman Impey and Glenn Manton, met with CHP to share their thoughts on reconciliation and its connection to belonging and identity.

-- Council to Homeless Persons, 31 May 2018 CHP eNews